We do quantity orders instead of wholesale orders. Call and ask for Sheldon. When available we do sell spiking dendrobiums, oncidiums, brassias and phalaenopsis. Budded cattleya are also available.
We are now selling in large quantities 2 1/2″ pots of Mericlone Cattleyas and Phalaenopsis. We are just starting to sell plug trays. Our flasks and compots are always for sales. Please call or email us for quantity order prices and for our flask list.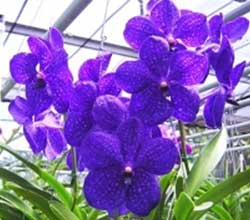 Please note: In support of International Customs regulations regarding Agriculture, all regular priced orders can be shipped to contiguous United States, Hawaii, Puerto Rico and St. Croix/Virgin Islands only. This does not included any Specials/Sales. Orders outside these areas are subject to cancellation.
Please contact Carmela Orchids at (808) 963-6189 for more information.